Shop vintage clothes, shoes, accessories, decor, art, music, photos, books and memorabilia from Black owned businesses.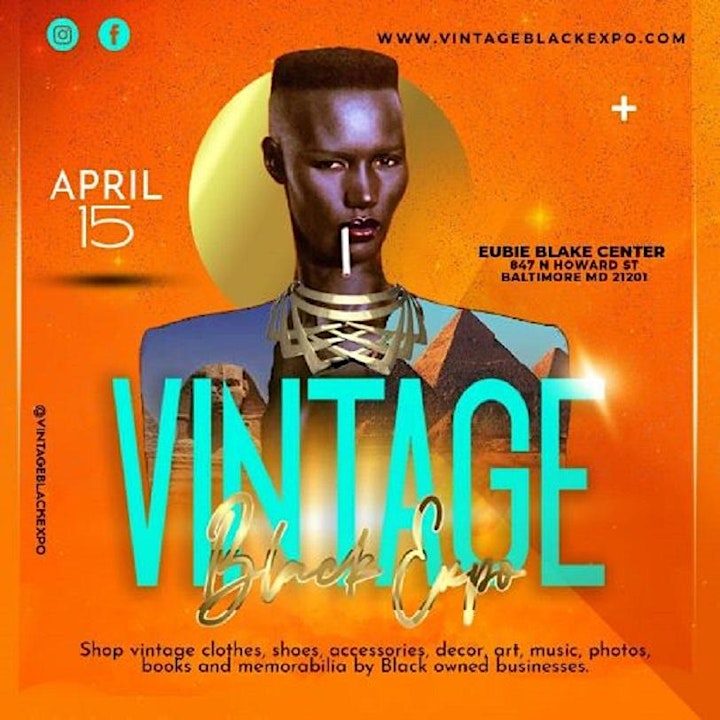 Vintage Black Expo | Baltimore
April 15, 2023 11am-7pm
Eubie Blake Center
847 North Howard Street, Baltimore, MD, 21201
The Vintage Black Expo is designed to give guests an opportunity to shop for vintage and inspired pieces to add to their collections. At the expo, you will learn from vintage business owners, shop local boutiques and connect with prospective clients and guests. Most importantly, you will have the opportunity to build up the Black vintage community and learn how to create, sustain and cherish Black vintage for the future.
We will have food, drinks, music, live entertainment, demonstrations and of course a vintage fashion show!
RSVP to attend for FREE through February 10.
$10 after February 11, 2023.
The purpose of the expo
The goal is to learn about, preserve, share and grow the contributions of Black vintage culture and traditions.
The expo goals are tri-fold: 
To share and preserve Black culture through vending, demonstrations and master classes.
To network with like-minded professionals and guests in love with the Black vintage community.
To share information about your business and the business process to others interested in entrepreneurship about taking your business to the next level(s).
What you can Expect
At the Vintage Black Expo, participants will have the opportunity to shop, party, learn, dance, eat, and shop! We have coordinated with our vendors to create activities, games, prizes and demonstrations. The purpose of the event is to create a fun shopping and networking experience for the whole family.
**Vintage Vendors Needed**
Please complete Vendor application : https://forms.gle/BxABXe79vZ2qd6cx7
 Contact : vintageblackexpo@gmail.com
Website : www.vintageblackexpo.com
Eventbrite : https://vintageblackexpo.eventbrite.com
Types of businesses we are looking for:
Vintage clothing, shoes, accessories, Americana and African items, slavery artifacts and documents, paintings, books, dolls, pins, advertisements, prints, textiles, political and civil rights memorabilia, kitchen collectibles, jewelry, postcards, cookie jars, sports and entertainment memorabilia, Blaxploitation movies and posters, coins, Tuskegee and Black Panther Party memorabilia and much more!
FAQs
1. What makes this event special?
This event is intentionally created during Black August, another special month for Black people to learn about Black history and culture. Unlike the traditional popup formula that showcases a variety of business with the focus on shopping, this event will focus squarely on engaging with Black vintage, inspired and reimagined businesses, learning about the industry, connecting virtually and in-person and educating folks on how to preserve and share Black culture.
2. What is the vendor fee?
The vendor fee is $100 per vendor and includes: Table, chair, professional brand photos, ongoing advertisement and social/media coverage. Vendor application: https://forms.gle/BxABXe79vZ2qd6cx7
3. What is a swag bag sponsor and what are the benefits?
Swag Bag sponsors are businesses that provide products, advertisement, services, coupons etc for inclusion in the swag bags. Each swag bag sponsor will receive digital content with their product(s) from guests to be used on social media. To participate, please complete the vendor application: https://forms.gle/BxABXe79vZ2qd6cx7
4. Why is the price different without RSVP after February 11, 2023?
In order to make this event special, we rely on support from our sponsors. They want to know more about YOU. The more you show up, the more we can enhance this event. The early bird gets the worm 🙂
5. What is the crowd going to be like?
Image a building full of Black love and creativity! Expect well-known and new brands to connect over their love of Black culture and vintage/secondhand shopping. Expect some curious individuals who want to know more about this niche market. Expect a diverse group of people who support sustainability. Expect positive vibes, education and opportunities.
6. Will there be virtual opportunities?
YES! You can participate in our live virtual sale. This will be streamed LIVE to our online community. Tap into that by completing the virtual vendor selection on the vendor application. Fees go toward providing professional audio/visual coverage and dedicated staff to facilitate the transactions.